How to give your sales a dramatic boost
After training as a Pharmacist I started working for Boots the Chemist's. Pretty soon I stopped counting tablets and started managing shops.
[Boast alert] They discovered I was good at it. So good they kept promoting me.
Here's my simple secret. I chatted to customers and gave them the service and value they craved.
To do well my shop needed to sell more.
To sell more I needed people who came into my shop…
to buy
to come back and buy again
to buy more of what we offered
to tell their friends so they would come and buy too
The people who came into my shop wanted to…
find what they were looking for
be able to pay quickly
be served by someone who was motivated enough to look at them and smile
get advice they could trust from knowledgeable staff
When I gave them what they wanted I got more sales, fast. In a shop you get immediate feedback, your customers buy or they leave (shops are a lot like a website).
I know I'm leaving out some important elements like great quality products, special offers, the Advantage card and the Boots brand, but early on in my career I had little input into those. So I focused on the things that were important to my customers that I could control.
This doesn't just apply to shops.
In any business if you want to sell more you need…
to convert more customers
customers to return and buy again
customers to increase their average spend
customers to refer new customers
A quick side note – because I worked in shops I still talk about customers. This is just as important if you serve clients or patients.
This isn't rocket science is it?
Yet very few businesses give this the attention it deserves. Many of my clients are obsessed with finding new customers, only to ignore them after the first sale. Or they don't tempt them with a premium version of their service – typically about 20% of customers would choose that option given the opportunity. And few really build on their relationship and offer their customers other products or services.
The most important skill in business is to give your customers what they really value.
Let's look at my simple example from Boots…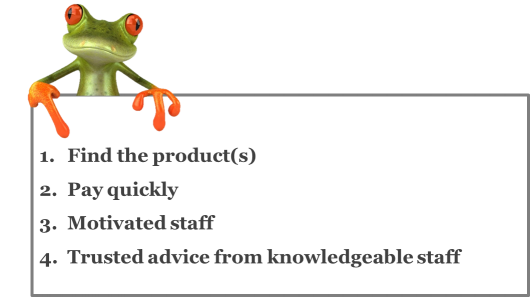 Now imagine that there were 2 identical Boots stores right next door to each other. Which would get the most sales?
Customers who visit this shop are frustrated because some of the items they want are out of stock. There are always queues at the tills and getting a smile from the assistant is as rare as a lottery win. The good news is that when they need advice the staff know what they're talking about.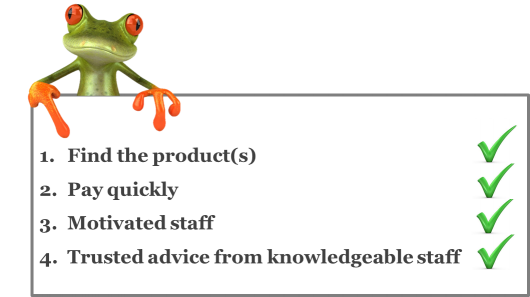 The customers who visit the shop next door have a different experience. The shelves are well stocked and a member of staff always seems to be there to help them to find what they're looking for. When it's busy they open more tills. The staff are obviously motivated and their smiles are genuine. Their knowledge advice is as good as that in the other store.
It's pretty obvious which shop would quickly get more customers and more sales.
This is a simple example from Boots, but the lesson applies to every business. When customers decide who to buy from they are much more likely to choose the business that ticks the most boxes. They'll choose the business that best delivers what they really value.
The more closely a business can the match the value a customer seeks the easier it will be for the customer to decide to buy. Less of a match gives them excuses not to buy and try elsewhere.
Now it's your turn.
Do you really know what your customers really value?
Do you know what they value the most?
There are only 4 options from my Boots example; you're bound to have more. Wait a second, before you list what you think your customers really value be aware of this common mistake.
Many business owners include in their list things that their customers couldn't care less about. Worse they often lose sales by giving these more attention than the issues that are really important to their customers.
Be honest, what do currently promote or talk about that could be losing you sales because they're not important to your customers?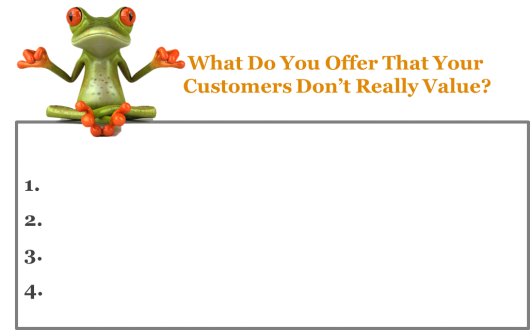 Why's this important?
In any competitive market businesses will vie with each other to win the most customers. The business that understands what their customers really value and consistently delivers that value will usually win.
Short-term tactics like slashing prices may have an impact, but these are often a sign of desperation.
Few customers buy on price. They are much more likely to buy from the business that recognises what they want and convinces them that they'll deliver on their promises.
Here are 9 reasons to strive to deliver value to your customers:
More will convert and buy from you
You'll be able to charge more
They'll spend more
They'll come back and buy again
They'll give you a testimonial
They'll give you a review
They'll spread the word about your service
They're easier to deal with
You'll feel good about the value you offer
I'm serious about feeling good. It's rare for customers to be delighted with the value they get, and when they are the buzz you get from serving them is fantastic.
Here's a quick example of a business that understands what their customers value…
My "exuberant" son Jamie is 3 in April. He loves firemen and fire engines, so we ordered a couple of Pintoys from Amazon.

The order was fulfilled by "Toys By Mail Order". They sent me 2 short, but exceptional e-mails.
The first simply said:
Your order will be delivered
3 April
Your order from Toys By Mail Order will be delivered 3 April by Interlink Express. Can you please ensure that someone will be available to sign for the parcel.
If 3 April is not convenient, please click below to change the date.
Now that's different to the normal "Your order has dispatched" e-mail. They gave me an exact date of delivery and an opportunity to change the date if needed.
The next morning I got the second e-mail:
Your order is due for delivery
between 17:51-18:51 today
Your order from Toys By Mail Order is out for delivery today by your Interlink Express driver and is due to be delivered between 17:51-18:51. Can you please ensure that someone will be available to sign for the parcel.
If today is not convenient, please click below to change the date.
Now they promised a precise 1 hour delivery slot. To be honest I had my doubts that they'd deliver to a London address with such precision. At 6.05pm my doorbell rang and there was my delivery.
So what's the point of this story?
These guys understand the value of their customer's time. They know a "we tried to deliver" card left in the letterbox wastes their customer's time.
Their customer doesn't get their order as quickly as they should
Their customer has to waste time re-arranging the delivery
If only all deliveries were this precise. How many hours do we waste waiting all day for a delivery that never arrives? Even if it does arrive it's likely our time could have been better spent.
Have a look at their feedback scores…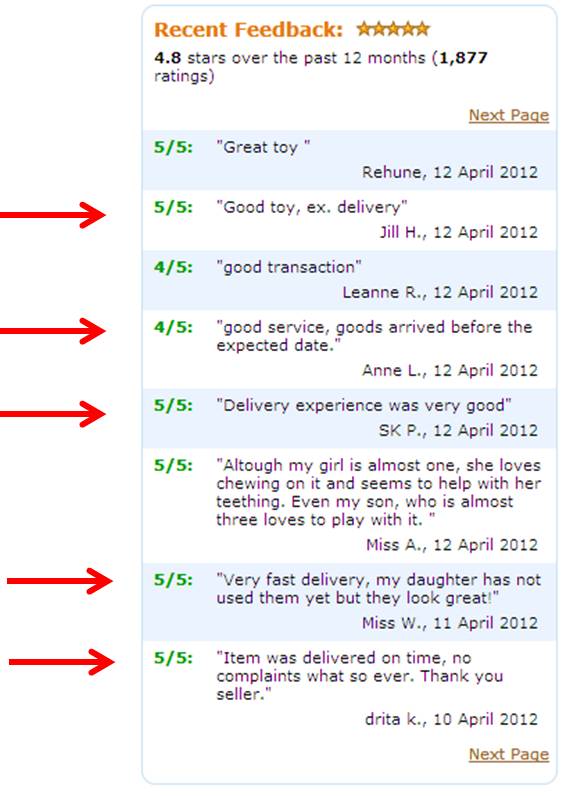 5 of their 8 most recent feedback comments specifically mention the delivery.
What do your customers say about your business? What's important to them? How well do you deliver the important things?
Consistently deliver value to your customers and you'll win.