The mountain of Lochnagar towers above Ballater, a small town on the edge of the Cairngorms with a very special butchers shop.
Michael Sheridan began trading in 1963 from a small van and he soon had his own shop in Ballater.
I was reminded of Sheridan's when I bought some revolting sausages from a well known butcher in London. Michael wouldn't have given sausages like that to a dog. Maybe I was unlucky, but I don't think so. The sausages weren't "off", they were just nasty little bags of the lowest quality ingredients, priced at a premium and served with supreme indifference.
In one transaction the butcher ensured I'd never return.
Michael knew his reputation depended on the quality of the meat he supplied every time he served his customers. Perhaps he could have got away with lowering his standards and boosting his profits. He never did. How could he, when he greeted his customers like friends in his shop?
His customers weren't just buying the best ingredients to raise their strong, healthy families. They queued out the door because he remembered their names, knew what they liked and made them feel special.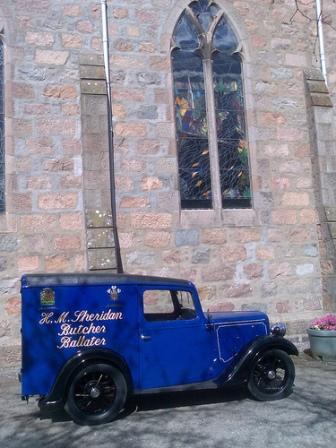 Throughout his life he supported his local community and when he died in 2006 he left a legacy to fund a stain glass window in the Glenmuick church in Ballater.
The window depicts the bridge over the river Dee in Ballater, and crossing the bridge is Michael's delivery van. How many butchers or any other local business owners have been honoured in such a way?
He also left his shop to two trusted employees, Barry and John, who continue to serve by his values.
As businesses grow, some owners distance themselves from their customers. They expand and pour their energies into  financial projections and budgets. Customers become a line on the accounts, rather than emotionally volatile advocates or critics. Service standards slip and the warmth of a personal welcome becomes a meaningless plastic smile. Common sense disappears and is replaced by wooden policies and procedures. Word spreads and customers disappear.
This is not to say that expansion is wrong, quite the reverse, but without customers it's bound to fail.
Small businesses flourish when they connect deeply with their customers. They sustain their growth when their core values protect the emotional connection that attracted customers in the first place.
Research by Millward Brown suggests it's the connection customers form with brands, that is the ultimate driver of their growth. Between 2001 and 2011 the brands in their study that succeeded in connecting deeply with their customers grew 3x faster than their competitors. Some grew at 10x the rate.
They identified the 5 emotions responsible for customers bonding strongly with brands as:
Eliciting Joy: Activating experiences of happiness, wonder, and limitless possibility.
Enabling Connection: Enhancing the ability of people to connect with each other and the world in meaningful ways.
Inspiring Exploration: Helping people explore new horizons and new experiences.
Evoking Pride: Giving people increased confidence, strength, security, and vitality.
Impacting Society: Affecting society broadly, including by challenging the status quo and redefining categories
No mega-brand in the world is as nimble as a motivated small business owner, nor are they able to bond so personally with their customers and fuel word of mouth recommendations as quickly.
Every moment with your customers either builds a deeper connection or loosens it. The future of your business is built on the values that make these moments special.
Photo credit: James Littlejohn via Flickr