Did you know that Stephen Fry's favourite utensil is the snappily named "3 in 1 Aluminium Apple Peeler Corer Slicer Cutter Machine?" 104 reviewers on Amazon agree with him giving it 4.4 stars out of 5. My kids love it.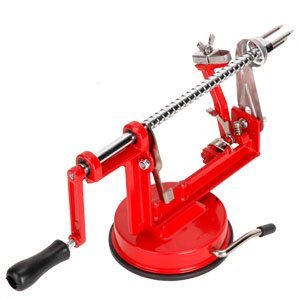 In June I bought a Digital Tyre Inflator on Amazon because 348 people gave it an average review of 4.3 stars. And I agree with the 19 reviewers who raved about Terry Leahy's superb book: Management in 10 Words.
Amazon has become my favourite retailer, which is strange because I've never had any personal contact with them at all.
Up until now they've continually built my loyalty and trust.
The very first point on their Corporate Governance web page states that they will:
"Focus relentlessly on our customers."
They go on to say:
"We are firm believers that the long-term interests of shareholders are tightly linked to the interests of our customers. If we do our jobs right, today's customers will buy more tomorrow, we'll add more customers in the process, and it will all add up to more cash flow and more long-term value for our shareholders."
You can pretty much find statements like these on any corporate governance page. What makes Amazon so successful is that they are more relentless than most in delivering (excuse the pun) on their promises.
Last year Amazon's UK sales were £3.3bn.
Guess how much UK corporation tax they paid on these sales?
None, because they channelled their transactions through Luxembourg.
Amazon, your UK customers live in a country with severe economic problems. You are not the cause of these problems and you may feel it is correct for you to minimise the tax you pay.
But you're not doing the right thing.
You benefit from the UK economy and it is in the interests of your customers that you contribute to the recovery of our economy.
Unfortunately "business bashing" is becoming something of a national sport in this country. Your tax policies are not helping.
Here is the opening paragraph from the Google Code of Conduct:
"Don't be evil." Googlers generally apply those words to how we serve our users. But "Don't be evil" is much more than that. Yes, it's about providing our users unbiased access to information, focusing on their needs and giving them the best products and services that we can. But it's also about doing the right thing more generally – following the law, acting honorably and treating each other with respect."
Is paying just £6m in corporation tax on last years UK sales of £2.6bn doing the right thing and acting honourably?
I don't think so.
Starbucks believes "that conducting business ethically and striving to do the right thing are vital to the success of the company."
How can a company with sales of £1.2bn over the last 3 years pay no tax? Astonishingly it has traded in the UK for 14 years, but only reported a profit in one of those years.
Is this being ethical and striving to do the right thing?
A successful economy needs dynamic, entrepreneurial businesses. A recovering economy needs them even more. And a desperately unhealthy "business bashing" culture mustn't be given ammunition.
Think of the interests of your customers. It's not right to "pick the juicy raisins out of the bun."
Do the right thing and honourably pay UK corporate taxes on the genuine profits you make in this country. Or you might start to lose the very people who give you your success.
Here are some others who need to look in the mirror: Topshop, Dorothy Perkins, Vodafone, Apple, Boots, Asda…unfortunately the list goes on an on.
Let me know what you think by leaving a comment below…
Let's work together to ignite your business growth: watch this stunning video.